St. Paul's College Foundation Fundraising Bazaar 2019
Posted by

Date

December 20, 2019

Comments

0 comment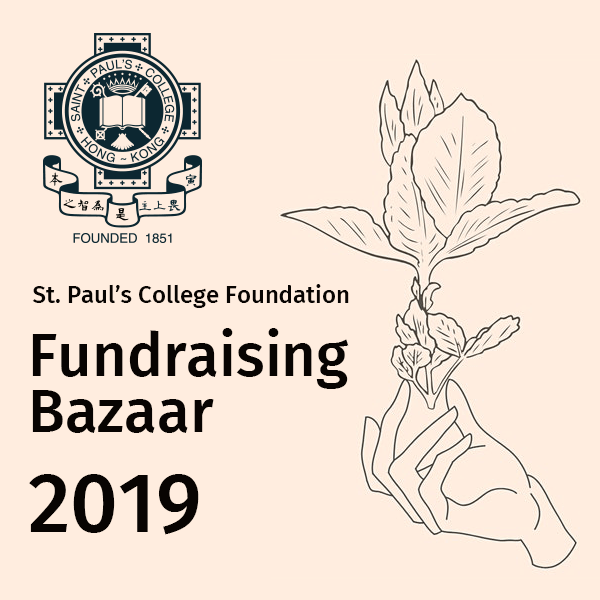 Ticket Sales Have Ended
Thank you very much for your support !
Description
St. Paul's College Foundation Fundraising Bazaar 2019
Date: 14/12/2019
Time: 12pm-5pm
Venue: College Campus, 69 Bonham Road, Hong Kong
Introduction:
St. Paul's College Foundation Limited, formally established in 2008, has been set up to expand the resources available to provide a first-class learning environment for our boys, both in Primary and Secondary schools. All funds raised will serve to empower us to achieve continuous improvement by upgrading the school facilities and enriching our resources, which are necessary to further advance our students' opportunities for diverse learning and character development. In the spirit of La famiglia, the Foundation serves as a link between the School and the St. Paul's community, be they graduates or parents or even friends of the Primary School and the College.
The Bazaar 2019
This will be a day of fun for the boys and excellent shopping opportunity for the adults! Since the Foundation has taken up the task of helping to start off the first phase of the School Enhancement Project, it has not organized any fundraising activity of its own. We have been able to mobilize support from alumni and friends and there are lots of bargains worth hunting for. The Foundation, the SPCAA and the PTAs will run booths to satisfy our customers. Our organizing committee has also worked really hard to bring together fun elements like experiences in the newly renovated STEM Lab. You might like to bid farewell to our swimming pool and enjoy s specially prepared cocktail at the pool side. Make it a family day where everybody can relax and enjoy. There will be food stalls! Tea will be served! Mouth-watering snacks will be waiting for you! Don't miss it. You can also enjoy our LIVE figurines making workshop and can take home a special edition of a series of SPC mini figurines! The newly expanded classrooms will also be there for inspection! Sports and games will be organized!
Be on the lookout for more details of the activities and the goodies we have prepared for you.
Registration can be done online……
You can choose
Option A: General Package For HK$100, you get an admission ticket with two coupons of HK$50 each.
OR
Option B: Premium Package. For HK$500, you will receive 6 coupons of HK$50 each plus a limited edition SPC figurine in swimwear.
Extra admission fees will be charged for special events like the STEM lab workshop for primary school students. Since capacity is limited, please book early.
Important to note:
Due to limited capacity, primary students are required to do online booking for STEM LAB workshop. Only students will be charged for the workshops. Parents and visitors are allowed to visit the STEM LAB, and support their kids for the workshop. Upon arrival, helper will check the registered students' names.
The admission tickets & vouchers redemption counter will be set up at the 4/f main entrance.
All purchases of booths items & other services MUST be paid with official cash vouchers.
No direct cash transactions of booth items & services are allowed.
Watermelon balls (free for all to enjoy) and kids' car experience will take place at the lower playground, at specified hours. Schedule will be posted at the lower playground, which might be slightly adjusted accordingly to cater for large crowds, so as to provide a perfect experience for our boys.
Vouchers will be required for Kids' car experience or poolside mocktail & photos.
有關「聖保羅書院基金會」
聖保羅書院基金會成立於2008年, 一直為中小學部提升教學設施及資源而不遺餘力;希望同學可以有更好的學習環境、更好的品格培養和茁壯成長。基金會有許多務實的工作, 例如在校務或行政上出謀獻策(為小學新校舍籌款改善設施、推動成立擴建籌款委員會就是極佳例子);此外訂制及售賣大家日常使用的校章或保羅系列的衛衣和外套;以致貼心撥款購買一些樂器供同學使用、津貼校隊制服、贊助運動治療等等。
近日社會氣氛緊張, 而同學亦剛完成了繁忙的考試;大家輕鬆回校共度一個周末下午,好嗎?
「保羅萬友」的慈善賣物會
為此,基金會和同學會特別花盡心思,令今次的賣物會能真正吸引及照顧「保羅萬友」!豐富項目包括:
-保羅小息的傳統百人西瓜波(免費放電)
– 刺激的兒童電動車體驗
– 令人目不暇給、又可飽嘗購物慾、盡攬保羅種種獨有的賣物會和餐飲美食
– 舊生的大回憶:謝雨川泳池的告別式及航拍池底照
– Lego DIY workshop 及舊生Lego專家以數千塊即席砌出泳池的創舉,向泳池致敬及懷緬, 嘆為觀止
– 初售限量版泳裝保羅健兒mini figurines
– 全新落成的班房及STEM LAB 開放參觀
– 舊生主理兩節STEM DIY workshop教同學自製智能灑水系統(需購票報名,名額有限)
有關是次基金會的籌款
近年大家為中學擴建工程籌募了不少經費(希望幸運地第二階段緊接動工), 作為舊生,我代表未來校園的主人翁、一眾小師弟衷心致謝!基金會為此亦勞苦功高, 但反而在過去一段時間沒有為自己籌款。所以,今次都希望大家可以支持一下!而基金會今次籌款的宗旨是「貴乎參與及培養歸屬感」, 沒太大的籌款壓力;所以大家可以在同學考試後輕鬆玩吓、家長就享受參觀及購物的樂趣!
參加辦法及捐款
只需在網上登記及捐出港幣一百元,就可以得到一張入場券, 當中包含兩張價值港幣五十元的現金券,供大家在賣物會中使用!
(超抵哦!喜歡mini figurine的更可以留意捐款$500的套票,內含6張港幣五十元的現金券,並送你一隻保羅泳裝健兒mini figurine !)
劇透:賣物會精品包括…
今次賣物會精品包括基金會人氣商品如雨傘冷衫衛衣磁石校徽、中小學家教會週年誌慶紀念品如文件夾及保羅利是封、限量版聖保羅迷你人型手辦(泳裝)優先推出、環保聖誕裝飾擺設、名牌手袋及成衣、潤膚用品、德昌魚蛋及名茶…
最後呼籲!!!
集購物、飲食、玩樂、學習、參觀及聯誼於一身的聖保羅大家庭活動, 馬上跟同學及家長朋友分享及上網捐款購票啦!一人要一票呀!